What will be the impact to your financial institution as the market of providers continues to merge into larger companies with multiple service offerings? How could a more consolidated industry impact you as you renegotiate your relationship with your existing technology partner?
Our goal is to give you information to help answer these questions. We've determined where these key vendors stand in regard to their product offerings, the target market, their investment in research and development, and overall number of customers per product. We also provided the 2011 FinTech 100 ranking where applicable.
There are forty-one core applications included in the top seven vendors within the comparison chart. With that kind of choice, you should take a critical approach to insuring that you make the best choice as to technology fit and cost.
As you can see, the top position of vendors has changed as of the FinTech 100 2011 rankings. FIS is now ranked number 1 and Fiserv is ranked number 2. The position of the other five vendors changed slightly in this year's ranking. Jack Henry remains ranked number 18 while Open Solutions slipped to 33 from 27 in 2010. Harland is now ranked 43 as opposed to number 38 in 2010 and COCC was ranked 90 in 2011 from 96 in 2010. Fiserv has a change in revenue over the last few years due to the sale of their insurance and health care business. There are numerous other vendors in the market place today serving community banks and credit unions, but they do not have annual revenue from this business to make it onto the top seven list, nor are they ranked within the FinTech 100.
Why does this matter?
If you are seeking to renegotiate your existing contract or evaluate possible alternatives for a new partner, it matters tremendously. Over the future life of any contract, it matters how a vendor invests in their product, how many alternative products they offer, and whether a core application may be eliminated in the future. Investment in research and development is vital to continued compliance with ever-changing regulations, continuing the transformation to mobile channels of delivery for almost every product and service any bank offers today, and improving existing functionality.
It does not make sense for providers to offer multiple products that serve the same market yet offer no significant improvement in functionality, technology, or delivery efficiency. In a mature market, competitors do not have that luxury. When you choose your partner and core system, you want to make sure it will be a survivor. It also matters because even big competitors might one day find it feasible, or reasonable, to combine with another organization or strategically change their direction or focus.
What will we see in the future?
There was not much change in market position during 2011. We did see instances where vendors lost customers, either through competition or due to the continued decline of the number of financial institutions in the United States due to closures by the FDIC and combinations among banks and credit unions. Today, for example, a credit union is seeking to buy a chartered bank. We think most industry experts predict a continued decline in the number of financial institutions.
What will that mean to providers as to growing revenue? Will ancillary products be a possible source of additional revenue for the key core providers? If so, how will that impact the price of all mobile products like internet banking, mobile banking, and payment alternatives? Will the unit price of these products go down as we continue the transformation from paper-based payments (checks) to electronic payments? These are some of the key questions that you should be asking. It's the reason that you should seek an expert to assist with your evaluation and negotiation of your next core and ancillary contracts.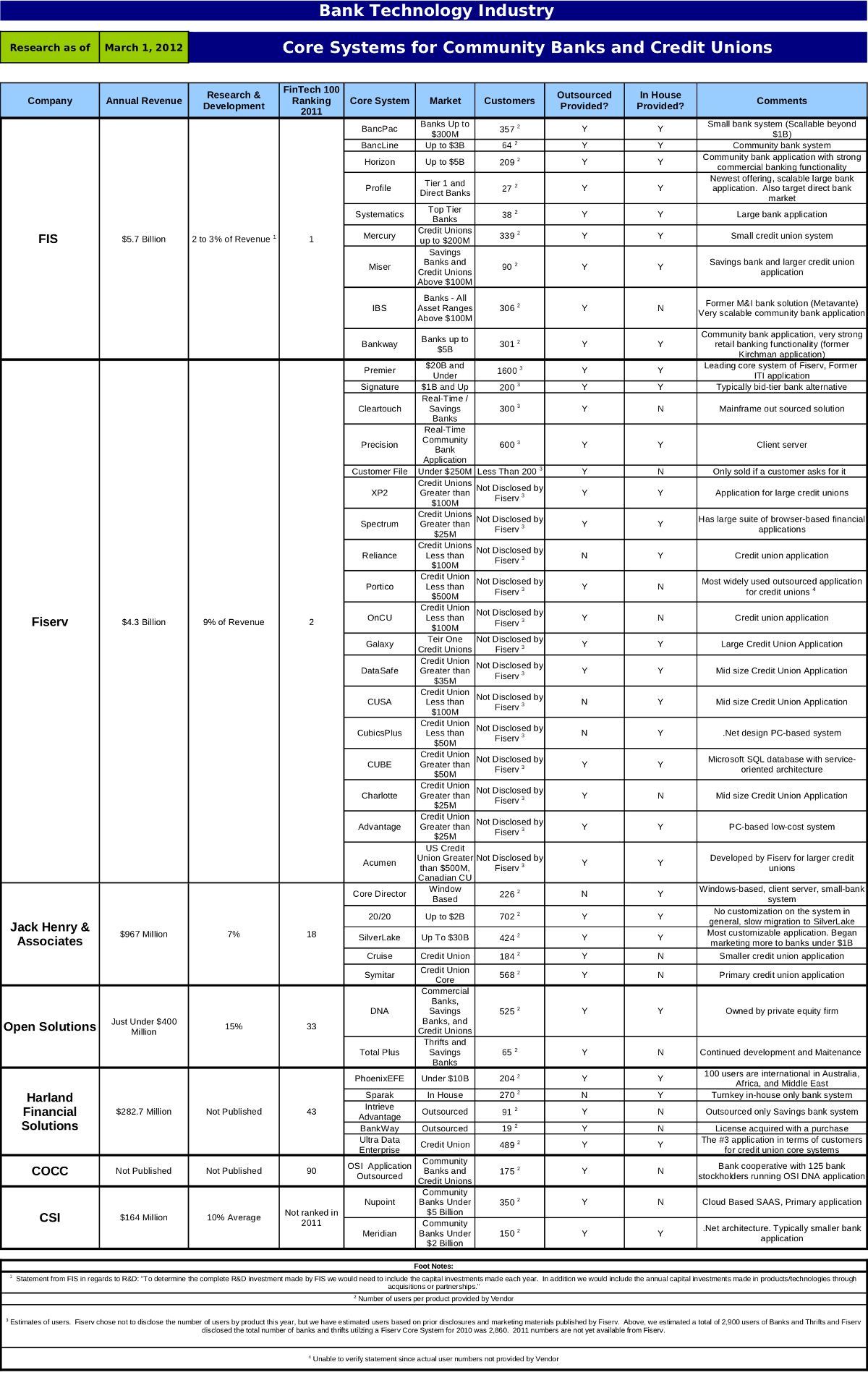 Feel free to contact us if you have any questions regarding the comparison chart, or if we may be able to assist you in your core application selection process.