2020's Evolution of Contactless Payment
The COVID-19 pandemic has led to an increase in the demand for contactless options for businesses of all types. Banks are no exception to this. If your bank meets the demands of your customers, you need to start offering contactless payment options. Here is a closer look at how the COVID-19 pandemic has fueled the adoption of contactless payment options for debit cards and what your bank can do to create a contactless payment plan that helps you meet this new need for your customers.
COVID-19 Fueled Contactless Payment Adoption
As COVID-19 has taken over the world, customers and businesses have increased their use of contactless payments. Mobile wallets and tap-to-go credit and debit card use are up to 51% in the United States. Today's consumers are 58% more likely to use contactless payment now than they were before the pandemic. VISA alone estimates that 300 million contactless credit and debit cards will be in circulation by the end of the year. This adoption has been rapid, and many banks are scrambling to keep up.
Current Technology Making It Possible to Go Contactless
Contactless payment involves two basic technologies. The first is the contactless debit card. These cards have nearfield communication technology (NFC) that allows them to pay for purchases when close to a payment terminal using radiofrequency. This is known as tap-to-pay technology. The second is the mobile wallet or app, such as Apple Pay or Google Pay. This connects your card information to an app or mobile device, which can then pay using the same NFC tech used with tap-to-pay cards. Either way, the result is the ability to pay without handing a card directly to a cashier or worker, eliminating human contact in the payment transaction.
The Safety and Security of Contactless Payments
Before the pandemic, consumers were slowly embracing contactless payment options. Many found themselves concerned about these payment systems' security, opting to use traditional swiped or chip-based payment instead because they felt more secure. However, the pandemic has pushed the switch, and consumers are finding that these payments are reliable and safe.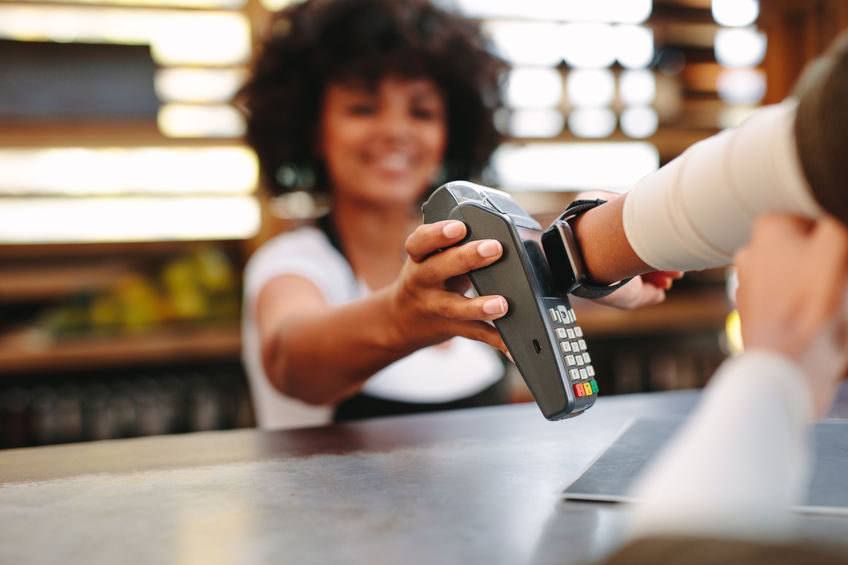 With contactless payment, the payment terminal receives a one-time code and substitutes it for the customer's card number. This makes it nearly impossible for someone to steal a debit card number. Because the token is used just one time, it is worthless if someone were to capture it. The cards also use dynamic, encrypted information, making them more secure than swiping a magnetic strip. For mobile wallets, additional protection, such as PIN verification or fingerprint and facial recognition scanning, make it even harder for an individual to copy or steal debit card data.
Financial Institutions Trying to Keep up with Consumer Preferences
Based on these statistics, it's clear that consumer preferences have shifted from traditional payments to contactless due to the pandemic. Banks, credit unions, and other financial institutions are scrambling to keep up. Those who are ready to issue contactless debit cards have become more appealing to their target customer base. The fear of the pandemic has forced the switch, but the change is likely to stay as people will not want to leave their tap-and-pay cards behind when the fear is gone.
Making the switch to offer your customers' contactless payment requires changes from your vendors and changes within your institution. This can feel overwhelming, so financial institutions need to make a plan for adding contactless options. With a contactless payment plan, you can enlist your payment and debit card vendors' help, start planning for how you will introduce your customers to your contactless options, and make the necessary internal adjustments to embrace this technology.
If your bank or financial institution is not ready to make this switch, you will lose potential and current customers. Finding the right service vendors who can help you go contactless and then creating an effective plan to embrace this technology will increase your relevancy in the current market. However, you may need a little help to make these changes.
L. Michael Wofford Consultants & Advisors can help your financial institution create a contactless payment plan, so you can remain relevant as the market shifts to embrace this innovative technology. We have watched the recent change to contactless payment and understand its implications, and we are ready to put that knowledge to work for you as you plan for your own changes. Reach out today to discuss your goals and create your contactless payment plan with our expert advice at the helm.