Many Community Banks and Credit Unions are experiencing a decline in Interchange income (PIN Debit blended average rate) mid-way through this year.
Why?
The responses by Visa® and MasterCard® to the Durbin rules during 2012 have impacted all Financial Institutions, not just the non-exempt with more than $10 Billion in assets. With both Visa and MasterCard's PIN networks, VPIN, and Maestro routing more traffic and competing with the other PIN Debit networks, we are seeing a change in the amount of interchange income community banks and credit unions are earning.
What can you do about it?
It is more important than ever for you to be efficient in all of your processing costs for Debit Cards; you cannot afford to have a contract that leaves money on the table with transaction charges and other fees from your processor. If you have not renegotiated your processing contract within the last three years, then possibly there is an opportunity to reduce those costs.
All PIN Debit networks are not created equal. Your relationship with the networks you utilize should be as efficient as possible in order for you to capture as many of those transactions as possible, which could determine if you earn more or less on interchange for every swipe of your customer cards.
The relationship you have with your National Brand, Visa or MasterCard, is important and can increase your earnings. Marketing can be improved by having a better relationship with your brand and driving long-term card usage and average ticket size. Strategically, increasing card usage and higher dollar purchases should be as important as the current average blended rate you earn from your PIN Debit networks.
The Federal Reserve published a new study of PIN Debit Networks during 2012 and calculated an average blended rate for PIN activity on the networks. Below are the results: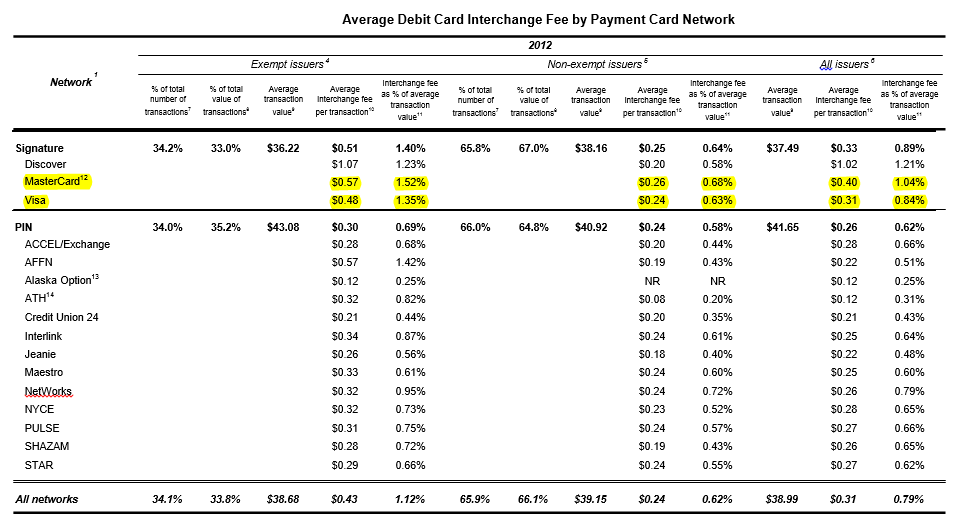 * Board of Governors of the Federal Reserve System, Impact of Regulation II on Small Debit Card Issuers.

Make sure you have expert advice on your Payment Program that generates the most for your financial institution.
We have the experience and expertise to guide you through this very complicated and competitive market. We have the client references to prove it as well. We can do a quick data gathering project with analysis that will guide you on how you can improve your Debit Card program. We are able to do this project for a small fee and present to you a proposal on how you might strategically move forward with improved results.
Contact us to see how we can help you. L. Michael Wofford, Consultants & Advisors, look forward to discussing how we can assist you to achieve the financial results you expect. Call or email us today at 704-907-8501